Beware of the fake webpages and people promising to assign Dun & Bradstreet D-U-N-S® Number. There are few people who are currently operating the webpage dunsverified.co.in . Dun & Bradstreet is unrelated to these infringers and the said webpage. Kindly be cautious while you transact with such people.
By Dr. Arun Singh,
Chief Economist
Dun & Bradstreet India
11-Mar-20
CFO Optimism Index
Mumbai, March 11, 2020: A recent survey of Chief Financial Officers (CFOs) conducted by business decisioning data and analytics firm Dun & Bradstreet, found confidence in financial and macro-economic conditions has increased. The survey also revealed interesting facts about CFOs' perspective on the overall business climate in the country:
Dun & Bradstreet Composite CFO Optimism Index increased by 15.5%, on a q-o-q basis, to 123.5 during Q1 2020.
45% of responding CFOs indicated a decrease in the level of financial risk on their companies' balance sheet - highest since Q2 2012
40% of responding CFOs indicated a need for raising long-term funds – highest in almost five years
28% of responding CFOs in the industrial sector expect the cost of raising funds from the market to decrease in Q1 2020 – highest in two years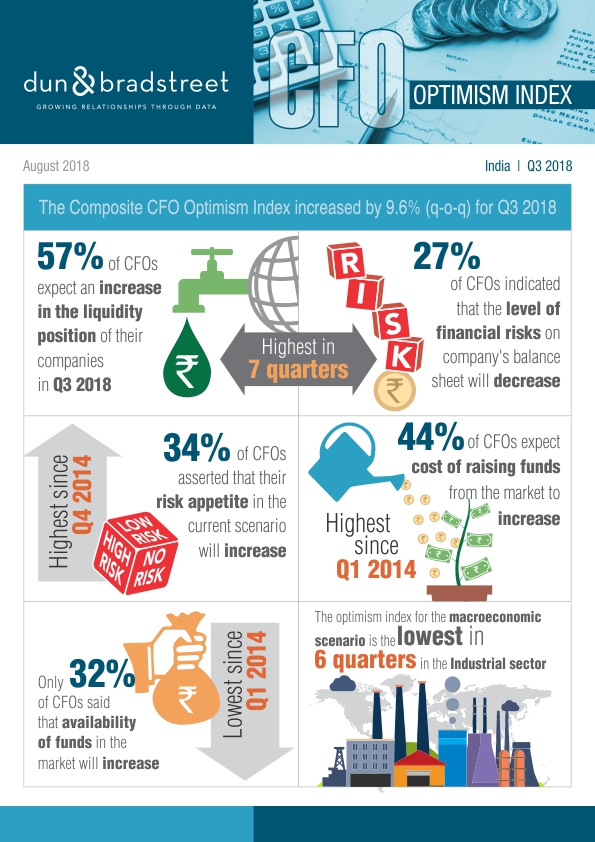 Copyright © 2018-2020 dnb.co.in. All rights reserved.