Top 500 and their role in building the nation
This year marks the 19th year of the Dun & Bradstreet (D&B) India's Top 500 Companies publication.
To understand where these Top 500 companies features within the overall country, we at D&B did some in-depth research. If we dissect India's GDP, we will see that around 80% of the GDP comes out of around 81 million economic entities in India. The Top 500 companies are the largest 500 in terms of income within the 81 million economic entities, which is one out of every 1.5 lakh entities. However, they are responsible for one out of every 5 rupees that is contributed to India's GDP. Hence, lies their significance.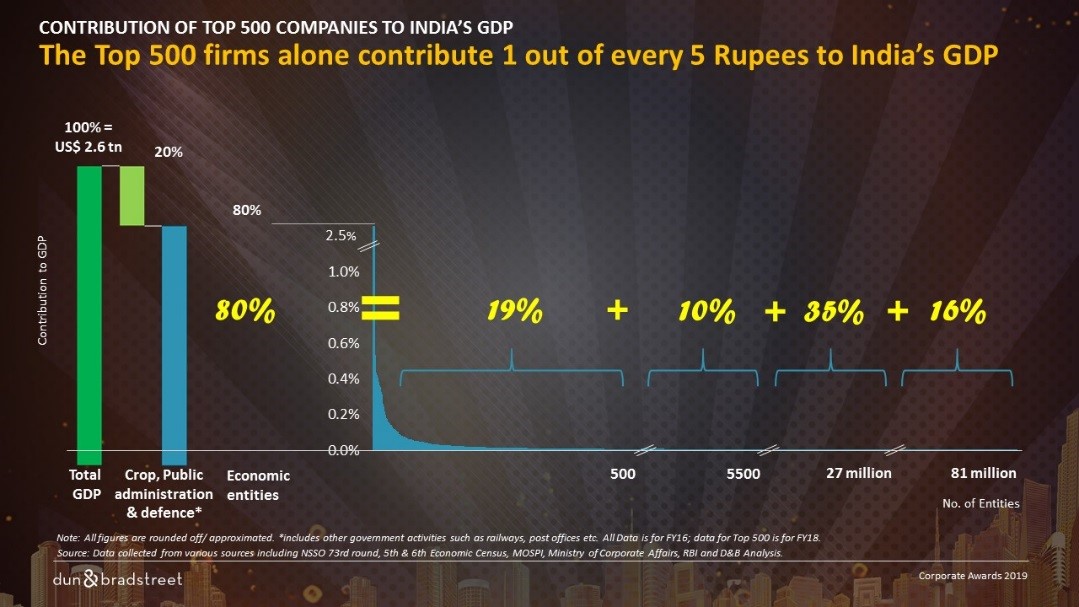 Further, we tried to understand how these companies are faring in global economy. India is the fifth largest economy in the world. We recently overtook United Kingdom (UK) and we are right behind Germany. If the top 500 companies constituted a separate economy, they would ranked 25th in that list, between Thailand and Belgium. This gives a reference of how big they would be if they were a separate country. If these companies continue to grow like they are doing at present, they will be bigger than Canada by 2030 (which is at the 10th position currently).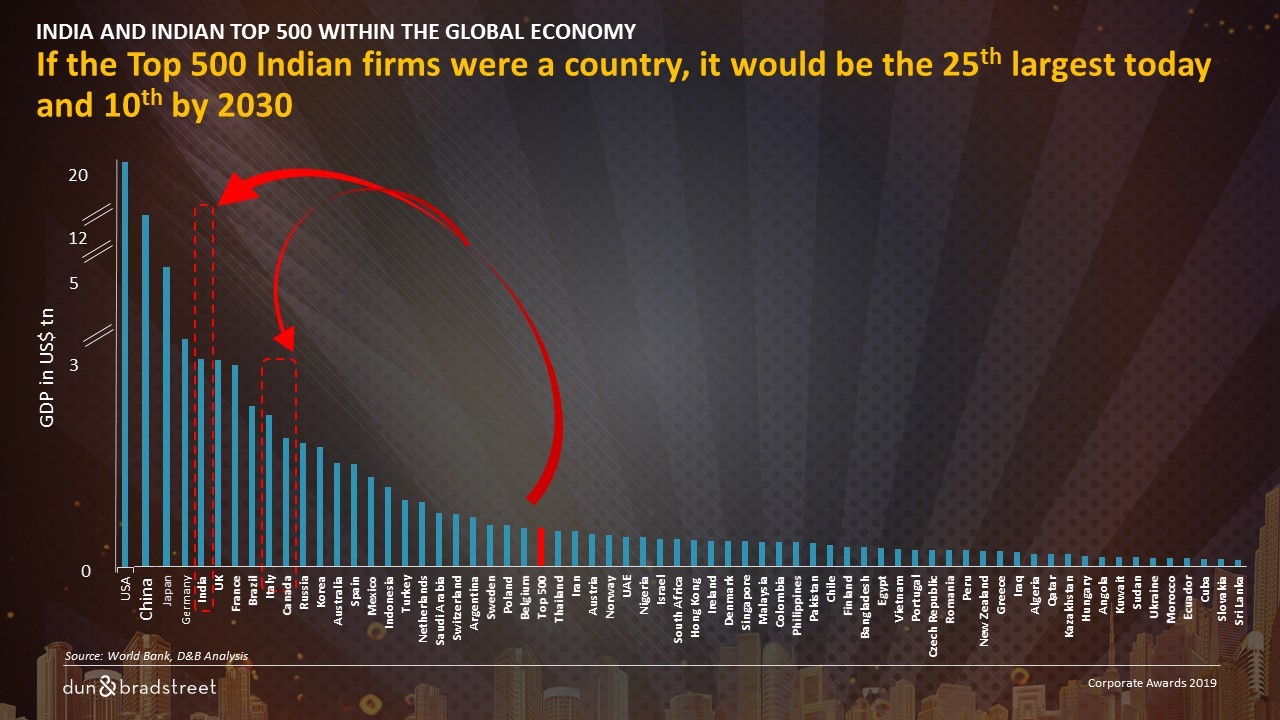 In terms of absolute significance, they are considerably large. However, if we look at what happens to the Top 500 companies over time, and their ability to retain their position, we come across a very interesting story. While winding back to the year 2000 and evaluating what was happened to them as the years progressed, we see that in 24 months, the Top 500 companies were down to 400. This does not mean that 100 companies ceased to exist. They just happened to drop out of the Top 500 list. After 12 years, we see that less than half of the Top 500 companies remained in the Top 500 list. The same trajectory was followed by the cohort of 2005 as well. It is no different for the cohort of 2010. If we look at the 2010 cohort in 2018, we see that the number is already down to 314, from the original 500. This is indeed a challenging group to be a part of, and it is difficult to maintain a position in the group.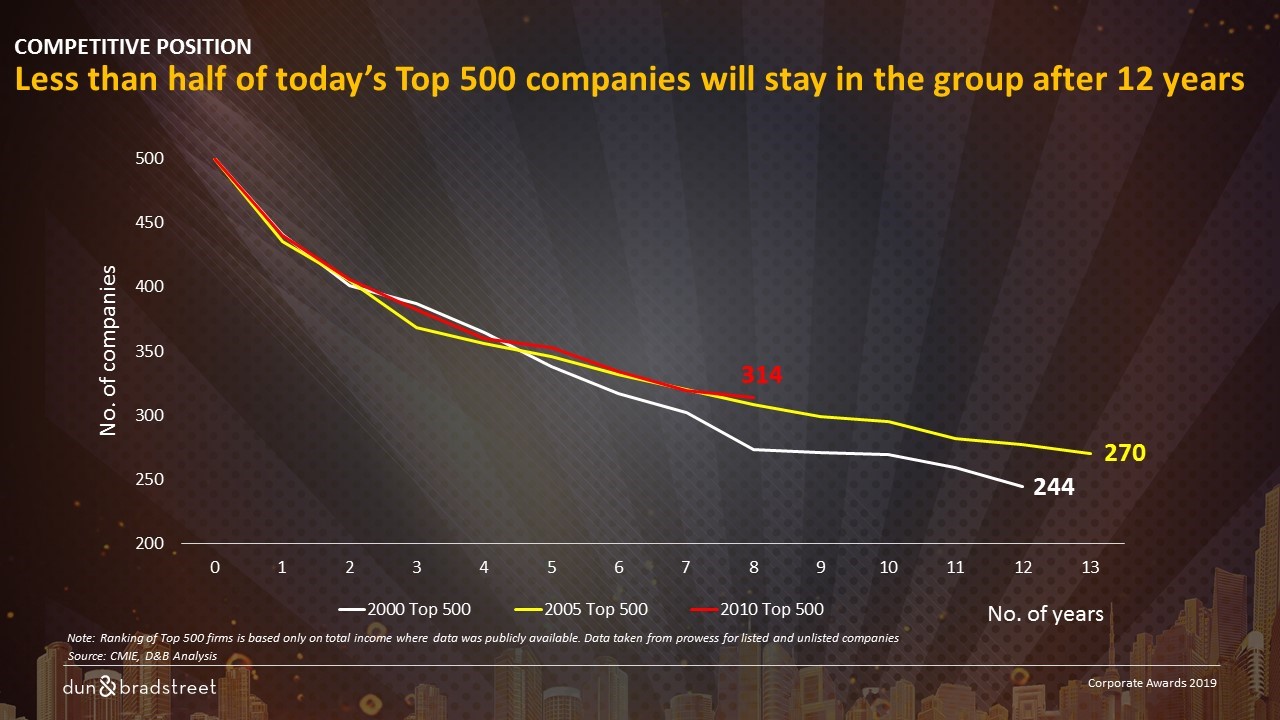 When we compared our large companies with the large companies of other countries, another interesting story emerged. We tracked the Fortune Global 500 from 2005 till 2018 to understand what the country contributions into the Fortune Global 500 are. We see that the USA was, and still remains the largest contributor. From 176 companies in the Global Top 500, the number of US companies has come down to 126. It is still very impressive even though 50 companies have dropped out of the list. However, what is most interesting is China used to have just 16 companies in the global Fortune Top 500 in 2005, which has now increased to 111 in 2018. This is an indeed an impressive growth by any standard. When compared, India now has 7 companies from 5 in 2005, which is modest, despite the fact that our GDP has doubled during that time period.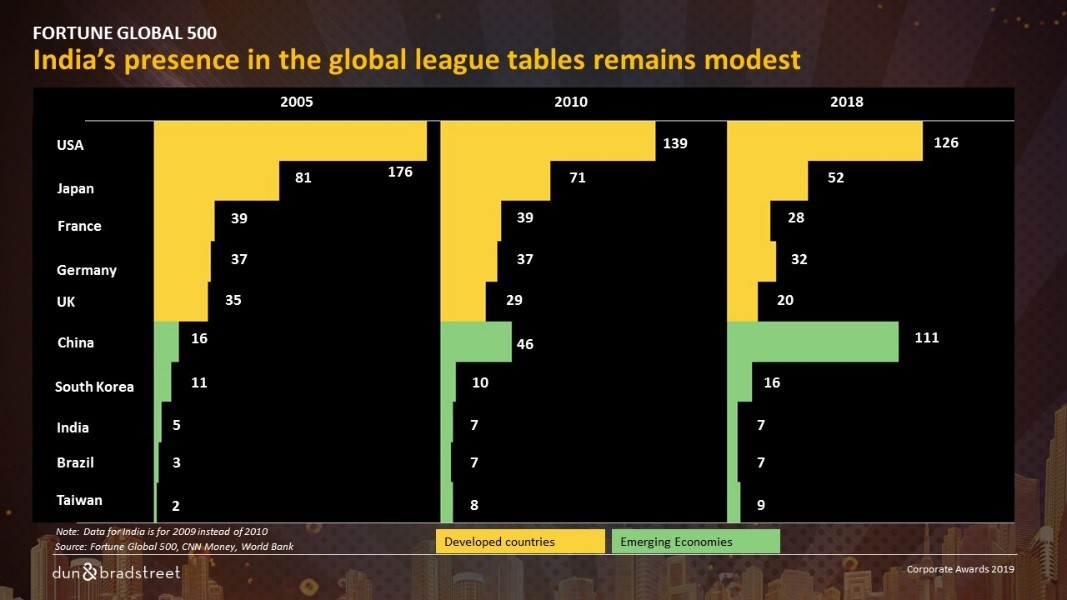 So why are Indian world-beating companies so hard to come by? We have looked at our own research and the research done by the World Bank, the OECD and several other Indian and Global entities. The research shows that there are 3 things that we need to significantly improve if we want to create world-beaters. Firstly, we need to improve entrepreneurship in the country. Secondly, we need to identify and promote what are known as high-growth companies, which have a very high correlation with productivity. Finally, we need to strengthen our institutions.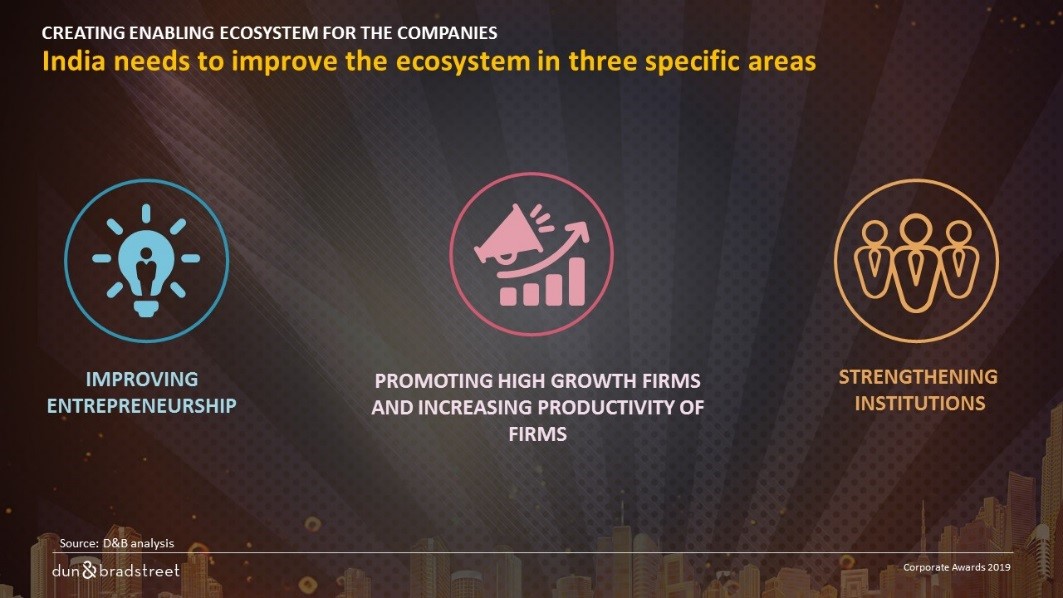 Let us start with improving entrepreneurship. If we put the entrepreneurship index measured by GEDI i.e. Global Entrepreneurship and Development Index (GEDI) on the y-axis and the GDP per capita on the x-axis, we will find an S-shaped curve when we plot various countries. There is a relatively slow growth period followed by a fast trajectory in the S-curve and then there is another plateau when we achieve high levels of entrepreneurship as well as high levels of GDP per capita. Countries like the USA, Switzerland, Netherland, etc. are all at the higher end of the S-curve. India lies at the lower end of the curve, whereas China has caught the high trajectory part of the S-curve. India has a long way to cover with about 1% contribution of Top 500 within the 81 million entities. We are low in terms of GDP per capita as well as entrepreneurship.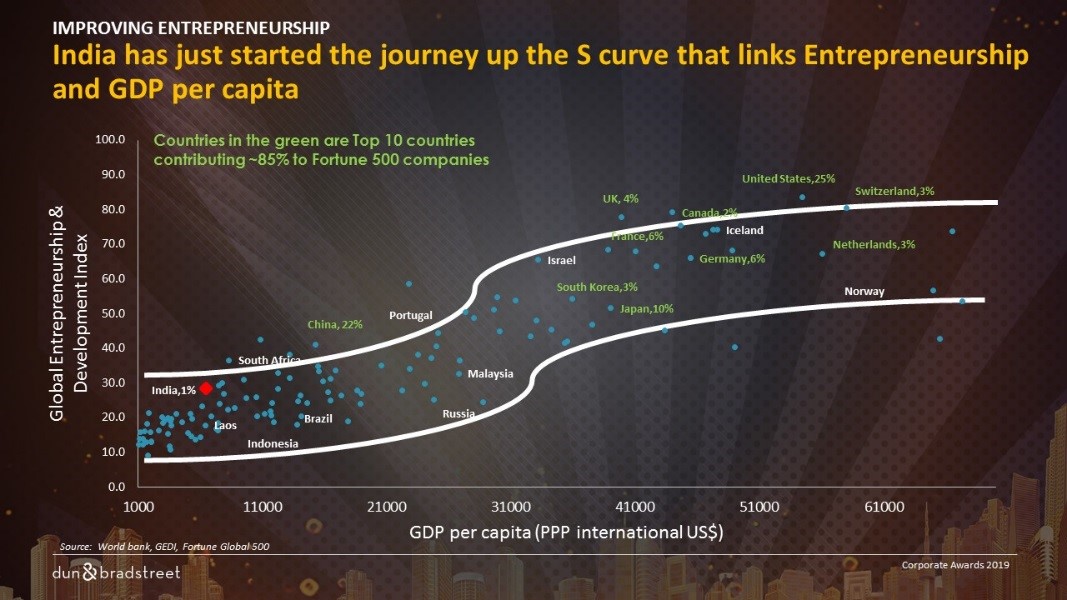 The second thing we need to improve is a metric that the OECD has developed, called the high growth firms. They have defined a high growth firm in a very precise manner. A company needs to have an annual average growth rate of more than 20% for three consecutive years in order to be classified as a high growth firm. By doing this they have found that there is a high correlation between high growth firms and labour productivity. As expected, developed economies have a very high percentage of high growth firms. In India, unfortunately that number is only 6%, which is strongly correlated with relatively low levels of labour productivity. Therefore, we need to create an environment where there are many more high-growth companies.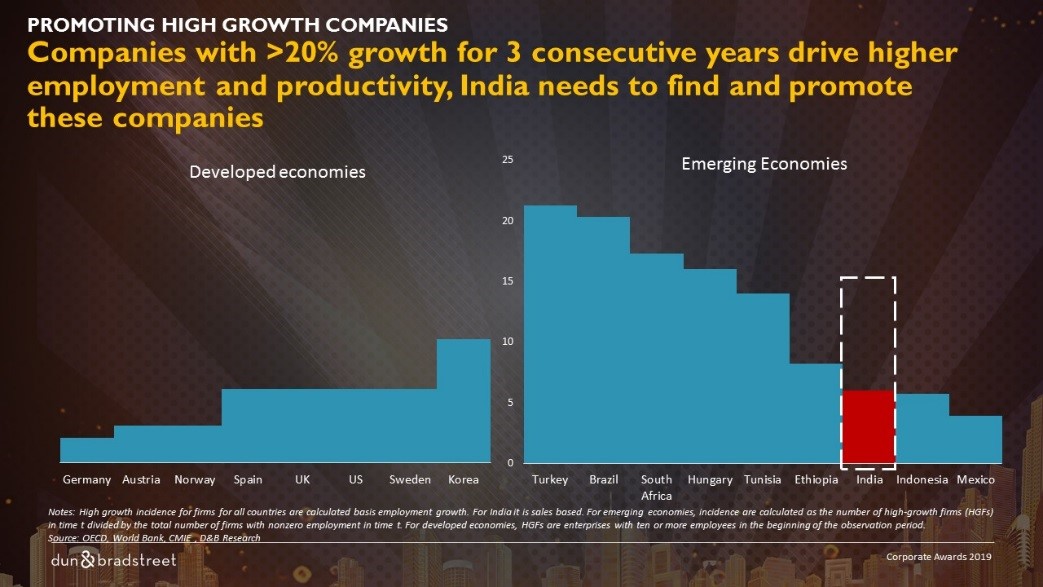 The third thing we need to do is have much stronger institutions. There is a very strong correlation between the strength of the institutions, the corruption levels and the entrepreneurship eco-system. If we track all the countries on a chart we will see that with higher strength of Institutions and lower levels of corruption, the entrepreneurship index or entrepreneurship eco-system of countries becomes stronger and we have a very clean line on which all the countries are placed. Interestingly, on that line, India is not doing badly. We are doing quite well in terms of strength of Institutions. In the corruption index India is not doing as well as it should have. Thus, India's entrepreneurship or GEDI index as we have seen is not so high. We still need to get better.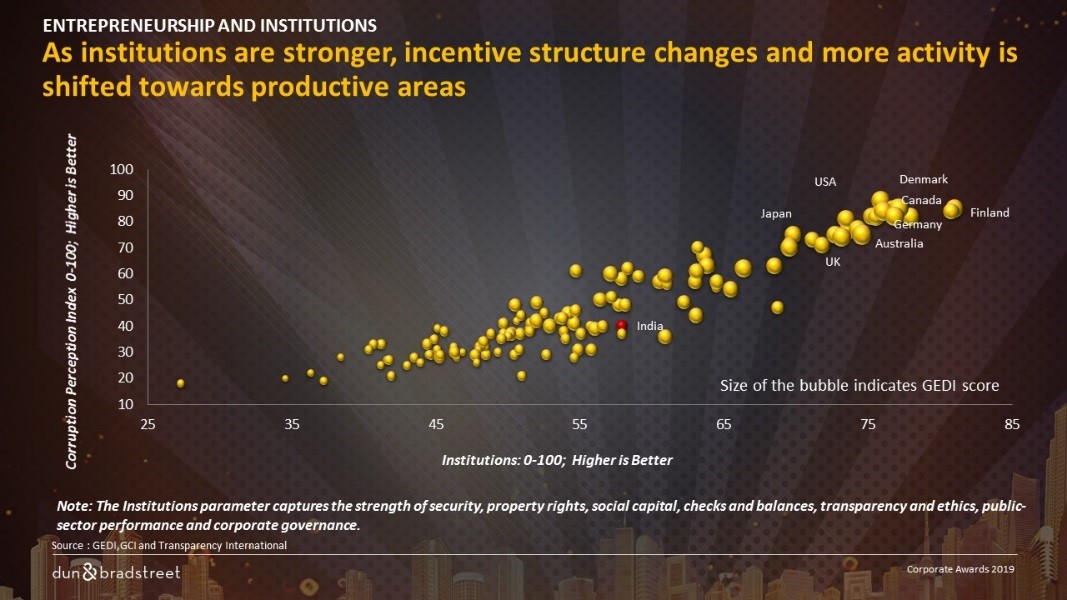 These three things need to happen in our country for large companies to start doing better and become world-beaters. Large companies improve the performance of medium, small and micro companies by providing forward and backward linkages. They also provide an improving competitive landscape, partnership and training opportunities for companies that are part of their ecosystem. All of these are the benefits that the economy derives from the improvement of Top 500 companies.