Beware of the fake webpages and people promising to assign Dun & Bradstreet D-U-N-S® Number. There are few people who are currently operating the webpages namely dunsverified.co.in, dunsregistration.com, dunsnumber.co.in and dunserve.online. Dun & Bradstreet is unrelated to these infringers and the said webpages. Kindly be cautious while you transact with such people.
Growing Supplier Relationships with Data
Dun & Bradstreet Supplier Risk Management helps you to manage the most reliable suppliers to protect your business against risk, prevent business disruption and meet diversity, green and compliance requirements. Stay on top of all the factors that impact a supplier's ability to deliver – financial, environmental and political
Our solutions are based on the following four principles
Certify : assess new suppliers and re-look at the existing ones
Monitor : check your database pro-actively to avoid exposure to risks
Analyse : Create a 'spend cube' to determine how much you purchase and from which companies / use external data for a better insight into your database
Mitigate : build nets by regularly following up suppliers and keeping alternatives in reserve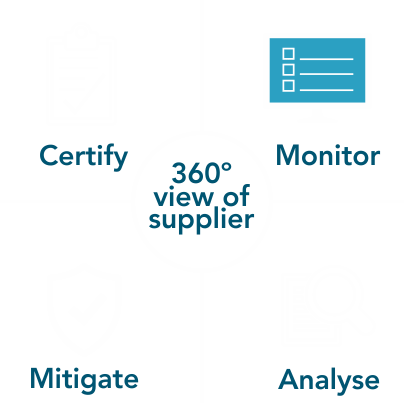 Highlights

Consolidate your suppliers and find potential alternatives

Onboarding of New Suppliers

Proactively identify and manage risk across your supplier portfolio

Other Value Added Products & Solutions
Copyright © 2018-2022 dnb.co.in. All rights reserved.