Beware of the fake webpages and people promising to assign Dun & Bradstreet D-U-N-S® Number. There are few people who are currently operating the webpages namely dunsverified.co.in, dunsregistration.com, dunsnumber.co.in and dunserve.online. Dun & Bradstreet is unrelated to these infringers and the said webpages. Kindly be cautious while you transact with such people.
What is a D‑U‑N‑S Number?
A D-U-N-S® Number is a 9-digit unique identifier for businesses. Live Business Identity, which is derived from the Dun & Bradstreet Data Cloud and aggregates all the information provided for any given entity within the Data Cloud, starts with the Dun & Bradstreet D-U-N-S® Number. A D-U-N-S® Number is assigned once our patented identity resolution process identifies a company as being unique and distinct from any other in the Data Cloud.
What is Company Update?
Register for Company Update to get easy access to Dun & Bradstreet's information on your business and D-U-N-S® Number Registration. Once registered, you can submit updated information about your business. The updated information will help your company build credibility with your stakeholders including banks, suppliers and other business partners.
The D-U-N-S® Number registration process may take up to 30 days for any entity. Any fast-track service may be chargeable.
Apple Developers & US FDA requests can get free of charge assignment of D-U-N-S® Number within 5 business days
Register to Use Company Update
Want to access your live business identity? Register for Company Update to provide updated information about your company to us. This will help your stakeholders get your organisation's true picture every time they enquire about it in the Dun & Bradstreet Data Cloud. You have to be a current registered executive officer within your company to use this site.
Register / Update
What Will I Need to Provide to Get a D-U-N-S® Number for My Business?
To register for a D-U-N-S® Number, you'll need the following information:
Legal name
Headquarters name and address for your business
Doing Business As (DBA) or other name by which your business is commonly recognized
Physical address, city, state and ZIP Code
Mailing address (if separate from headquarters and/or physical address)
Telephone number
Contact name and title
Number of employees at your physical location
Whether you are a Home-Based Business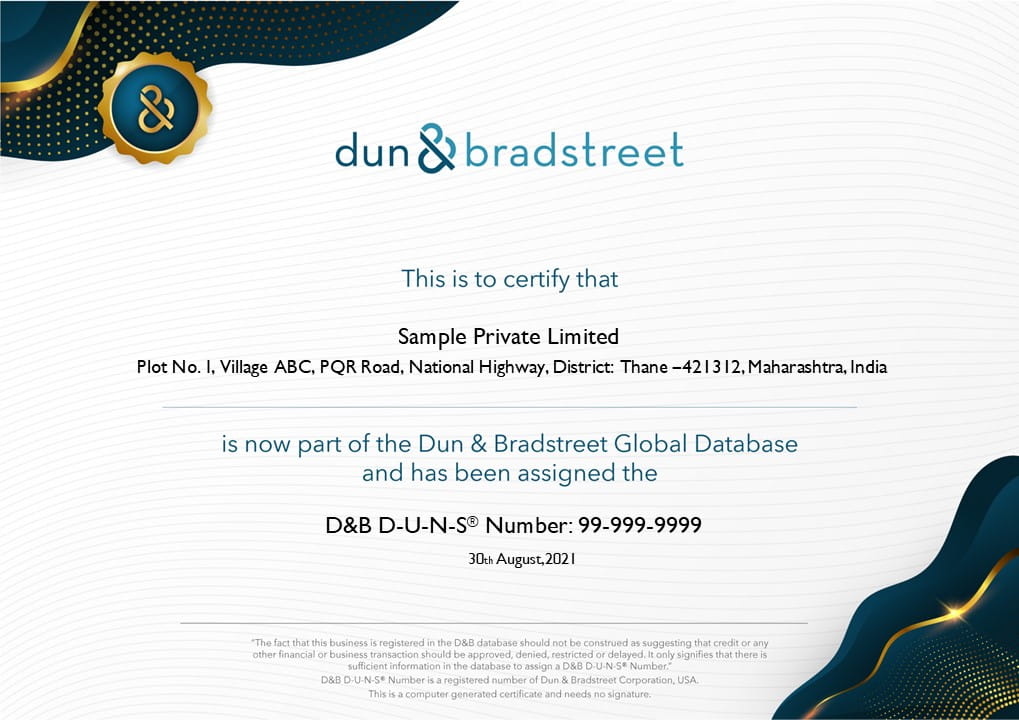 D-U-N-S® RegisteredTM Solutions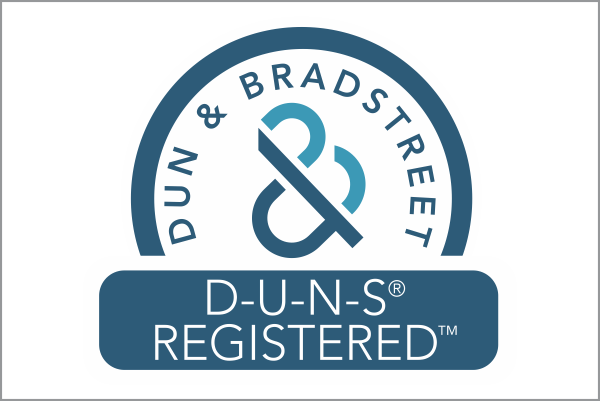 In today's competitive marketplace, it can be challenging to attract new clients or customers. Dun & Bradstreet, the world's leading provider of global business information, knowledge and insight, offers you an opportunity to enhance the trust and confidence in your business credentials by displaying verified and validated information through Dun & Bradstreet's D-U-N-S® RegisteredTM Solutions.
Credibility Reports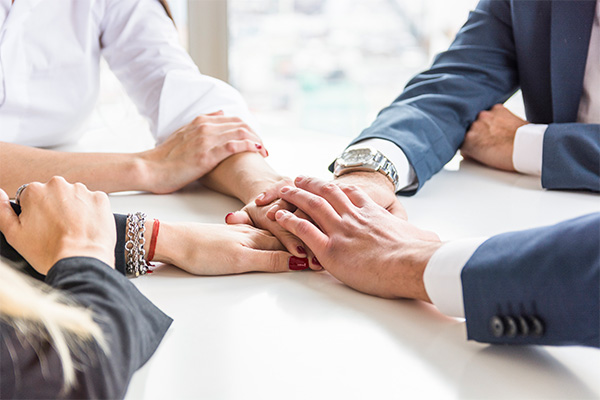 Dun & Bradstreet's credibility reports are designed to give your company the edge it needs over competitors. With peer benchmarking, SWOT analysis and much more, you will have all the right tools to not only establish credibility, but also grow your business exponentially. Get an updated profile and position the true picture of your business to stakeholders globally.
Clients Speak
"Dun & Bradstreet has been a great support and help for us. Your response in terms of new D-U-N-S® allocation, address change, supplier name change etc. has been prompt for MSMEs and all other suppliers."
Ashish Kaul Deputy Manager, Aptiv
"Thanks to Dun & Bradstreet for the prompt action & response for creation of D-U-N-S® Number for our client organization. Without this, it would have been difficult for the launch of our mobile app."
Harpreet Singh Deputy General Manager, NISG
Copyright © 2018-2022 dnb.co.in. All rights reserved.