Covid-19 resurgent
Commentary:
"The resurgence in Covid-19 cases is the main headwind for the global economy, with new cases in many countries in late September approaching or even exceeding their earlier peaks. Governments seem reluctant to bring back the full lockdown measures that halted the spread of the virus in H1 – the fear is that lockdowns would disrupt any nascent economic recovery. And the pandemic will induce long-term structural changes in the global economy. According to the OECD, households in the advanced economies will increase their propensity to save as a precaution against any further crises, while business investment will be lower, particularly for companies with high levels of debt. Both developments will mute demand and therefore economic growth. In India the steady rise in caseloads and the spillover effects of the strict lockdown measures will continue to undermine the growth impulses. Restrained government finances, probable defaults by firms and the consequent subdued investment demand will continue to be a drag on growth," said Dr Arun Singh, Global Chief Economist, Dun & Bradstreet
Introduction
The global economy descended into acknowledged depression conditions in Q2 despite the huge policy stimuluses. If the governments and populations of countries fail to eliminate the virus and its direct/indirect economic effects, only a few economies will be net beneficiaries of the 'global' recovery. That list would certainly include China, Vietnam and Taiwan Region: only the first two of these saw real GDP grow in Q2, while these three were the only countries to see goods exports rise, y/y, in July-August.
The short-term economic outlook remains highly uncertain, with significant variations across countries and sectors; in September, our GDP forecasts for 2020 range from a high of 2% growth for Vietnam and Malawi to double-digit contractions, as for Argentina (12.0%), Spain (12.0%) and Italy (11.5%). Of the three economic powerhouses, China will grow by just 0.6%, while the US and the euro zone will contract by 5.5% and 8.3% respectively.
US employment recovered by 10.4% in August compared with three months previously, that in Canada 11.8%, and that in the Philippines, another early reporter, 22.3%; yet the y/y loss in jobs was 6.7%, 5.3% and 2.9% respectively. Many jobs will not return, and the layoffs from heavily affected sectors are just beginning. Labour force participation rates globally are falling, with female workers especially hard hit during the crisis' early stages. If such developments are not reversed, long-term growth potential will be lower.
Our most recent cycle of analysis saw two countries undergo ratings downgrades: Kazakhstan, and Trinidad & Tobago. There were no ratings upgrades this month – for the second month in a row. Meanwhile, we upgraded the overall outlooks for three countries this month, and downgraded the outlooks for a further three.
Ratings Upgrades
None.
Ratings Degrades
Kazakhstan:

The slump in global demand for the country's raw materials, alongside lockdowns, will cause real GDP to contract in 2020.

Trinidad & Tobago:

The Covid-19 pandemic and low energy prices have throttled economic activity, driving a severe contraction.
Dun & Bradstreet Country Risk Analysis

Country

September 2020

October 2020

Change

Country Risk Rating Upgrades (risk level has improved)

None

Country Risk Rating Downgrades (risk level has deteriorated)

Kazakhstan

DB5a

DB5b

1 quartile

Trinidad & Tobago

DB4c

DB4d

1 quartile

Outlook Trend Upgrades (from/to)

Italy

Stable

Improving

Malaysia

Deteriorating

Stable

Saudi Arabia

Deteriorating Rapidly

Deteriorating

Outlook Trend Downgrades (from/to)

Hungary

Improving

Stable

Myanmar

Stable

Deteriorating

New Zealand

Stable

Deteriorating
Monthly changes in country risk ratings and outlook trends
REGIONAL SUMMARIES
Asia Pacific
Even economies that contained the coronavirus, like New Zealand, face depressed conditions. We believe that much of China's private and SME sector is in recession despite a jump-starting of the economy via infrastructure projects. India faces nervous months, with rural Covid-19 spreading and banks barred from classing debt as 'in arrears'.
North America
More macroeconomic indicators have climbed back above their pre-Covid-19 levels, indicating that the economic recovery was sustained through end-Q3; but the pace of recovery is slowing. Divergence between the effects on different income groups, demographics and sectors will create scars that may never disappear.
Western and Central Europe
The region is being hit by another surge in Covid-19 cases, and lockdown measures in many countries are tightening again, doing more economic damage. Our proprietary payments performance data for Q2 showed a deterioration, with the average payment delay in Europe rising from 13.1 days beyond agreed terms in Q1 to 13.6 days in Q2.
Latin America & Caribbean
The region is lagging behind others despite signs of gradual recovery in Brazil and Mexico from the nadir of the Q2 coronavirus-induced shock. Economic activity will accelerate unevenly throughout the region to the end of 2020 as trade, investment and remittances are severely reduced.
Eastern Europe & Central Asia
Russia's economy will contract by 4.5% in 2020, pulling the regional GDP performance down to -4.8%. Despite the uncertainty around the pandemic in the 146m-population country, Russia is expected to post 2.6% growth in 2021. Street protests in Belarus are ongoing, but President Lukashenko has tightened his grip on power.
Middle East & North Africa
Regional growth remains constrained by weak oil prices, insecurity, geopolitical tensions and Covid-19. As each of these aspects will still be considered well into 2021 at least, business operating conditions will remain fraught, although opportunities should increase as the oil states open their economies.
Sub-Saharan Africa
Business activity is generally picking up as curfews, lockdowns, border closures and flight bans ease. Nevertheless, most economies will contract in 2020; those that do grow will be weaker than in 2019. We remain concerned about the sovereign debt build-up across the region, despite the relief offered by the IMF and World Bank.
REAL GDP GROWTH (%)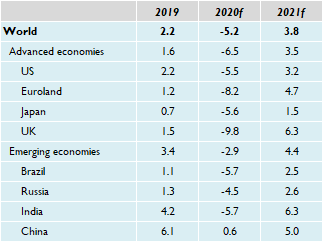 Sources: IMF; Dun & Bradstreet
Dun & Bradstreet Risk Indicator
Dun & Bradstreet's Country Risk Indicator provides a comparative, cross-border assessment of the risk of doing business in a country. The risk indicator is divided into seven bands, ranging from DB1 to DB7 – DB1 is lowest risk, DB7 is highest risk. Each band is subdivided into quartiles (a-d), with 'a' representing slightly less risk than 'b' (and so on). Only the DB7 indicator is not divided into quartiles.
The individual DB risk indicators denote the following degrees of risk: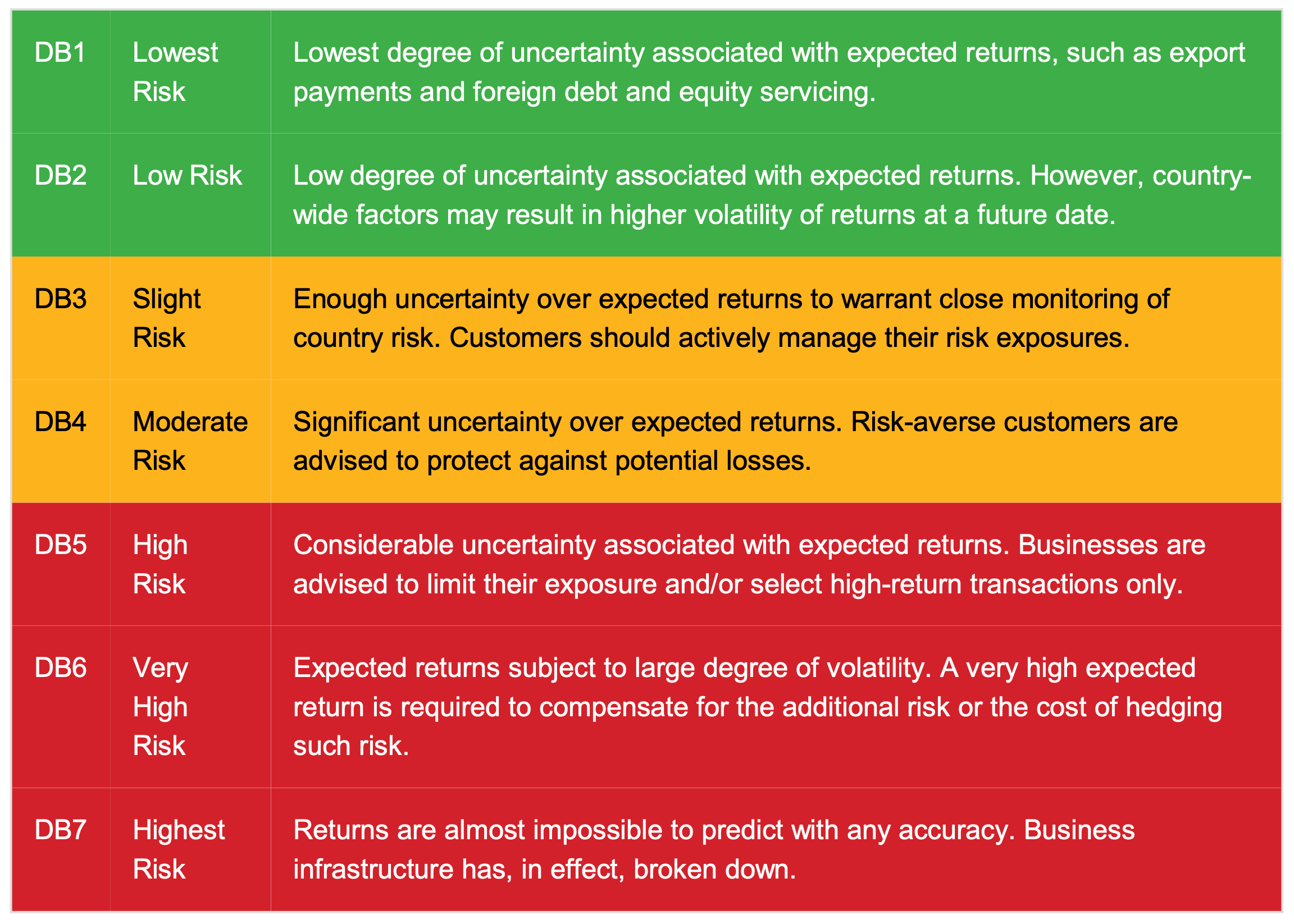 Ratings and Outlook Changes:
Ratings changes: Changes in rating are made when we judge that there has been a significant alteration in a country's overall circumstances – this could stem from a one-off event (e.g. a major natural disaster) or from a change in something structural/cyclical (e.g. an important shift in growth prospects). An upgrade indicates a significant change for the better, a downgrade a significant change for the worse. The number of quartiles of change indicates the extent of the improvement/deterioration in circumstances.
Outlook changes: The outlook trend indicates whether we think a country's next rating change is likely to be a downgrade ('Deteriorating' trend) or an upgrade ('Improving' trend). A 'Stable' outlook trend indicates that we do not currently anticipate a rating change in the near future.
Legal and Copyright Notices
While the editors endeavor to ensure the accuracy of all information and data contained in this Country Insight Report, neither they nor Dun & Bradstreet Limited accepts responsibility for any loss or damage (whether direct or indirect) whatsoever to the customer or any third party resulting or arising therefrom.
© All rights reserved. No part of this publication may be reproduced or used in any form or by any means graphic, electronic or mechanical, including photocopying, recording, taping, or information storage and retrieval systems without permission of the publisher.
Disclaimer
Whilst Dun & Bradstreet attempts to ensure that the information provided in our country reports is as accurate and complete as possible, the quantity of detailed information used and the fact that some of the information (which cannot always be verified or validated) is supplied by third parties and sources not controlled by Dun & Bradstreet means that we cannot always guarantee the accuracy, completeness or originality of the information in some reports, and we are therefore not responsible for any errors or omissions in those reports. The recipients of these reports are responsible for determining whether the information contained therein is sufficient for use and shall use their own skill and judgment when choosing to rely upon the reports.